When Should You Call a Certified Legal Nurse Consultant?
The moment a potential case comes in, Lisa Fitzpatrick CLNC becomes a valuable resource by identifying the medical issues, screening the case for merit and providing up to 30 CLNC services having a direct bearing on your case.

Lisa Fitzpatrick CLNC
Fitzpatrick Legal Nurse Consulting is based in Gastonia NC. With 30 years of experience in the hospital setting, I understand the nuances of behind the scene workings in healthcare. I currently hold my certification in the Operating Room (CNOR) and am a member of the American Nurses Association (ANA) and the North Carolina Nurses Association (NCNA ). As a member of the National Alliance of Certified Legal Nurse Consultants (NACLNC), I have access to fellow CLNC members and doctors enabling me to expand my information base to all specialties allowing me to give you valuable guidance with medical-nursing legal issues.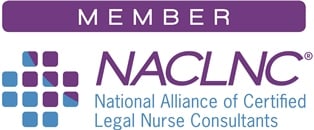 CLNC
/noun/ Certified Legal Nurse Consultant :
A Certified Legal Nurse Consultant is a Registered Nurse who has successfully completed the CLNC Certification Program through the Vickie Milazzo Institute. CLNC's have the expertise to quickly interpret medical records and identify deviations in Standards of Care. CLNC's can also discover issues in any case involving health, illness, or injury. As a CLNC I am also a member of the National Association of Certified Legal Nurse Consultants (NACLNC) the largest pioneering network of CLNC's which allows collaboration with hundreds of other colleagues outside of our area of expertise to bring you the highest quality work product in the business.
Consulting Services
Contact Us For A Free Consultation
Interpreting Medical Jargon to Prepare You for Court
With knowledge and determination, Fitzpatrick Legal Nurse Consulting can turn your information into action, allowing you, the attorney-client, to do what you do best, practice law.